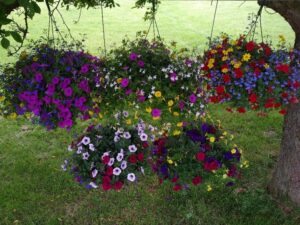 Please help support St. Andrew's Presbyterian Church by purchasing our beautiful hanging baskets. We are working with the same nursery as last year. We are offering 10-inch mixed coloured hanging baskets and a 10-inch pot of caliente geraniums in red, lavender, or coral/ fuchsia. The plant sale commences Sunday, April 3rd, 2022 until Friday, May 6th, 2022 – the deadline.  Pick up for your order will be in the Church parking lot on Tuesday, May 24th.  Details of pick-up times to be given out closer to the pick-up date.   The nursery has advised me that this year they are increasing their prices due to the pandemic and the overall cost of running the greenhouse.
Click here for information on the flowers and order form
Anyone wishing to purchase flowers can do so in three ways.  The first option is to mail the order form plus cheque – no cash please – to the Church address.  All mail at this time will be redirected to Jean Bradshaw– Clerk of Session. PLEASE DO NOT PUT ANY ORDERS IN THE CHURCH'S LOCKED MAILBOX.  As well, please label all mailed plant orders to the attention of Helen Collins. The second option is drop off the cheque or cash, with the order form, through the mail slot at my home at 10 Parkview Place.  I live in the hwy 10/Steeles area – the Old Peel Village. The third option is to e-Transfer the money to treasurer@standrewsbrampton.ca.  In the message area state the funds are for the hanging basket fundraiser.  You can then either phone, drop off to my home or email me your order.  If you have any questions, please contact Helen at (905) 450 – 6314 or anyone on the Stewardship Committee. Note: Please if paying by cheque make it payable to St. Andrew's Presbyterian Church with your order. All taxes are included. Orders cannot be processed without cash or cheque (s) included. No post-dated cheques please.
Thank you to everyone who supported this fundraiser.