Spring is coming  and at St. Andrew's we are once again holding our Hanging Spring Baskets and MacGregor Meats Fundraisers.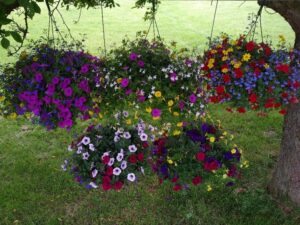 The plant sale commences Sunday, April 3rd, 2022 until Friday, May 6th, 2022 – the deadline.  Pick up for your order will be in the Church parking lot on Tuesday, May 24th.  Details of pick-up times to be given out closer to the pick-up date.  Please contact Helen Collins for further information. Click here for the Hanging Spring Baskets
Orders  will be accepted starting on Sunday, April 3 until Sunday, May 8, 2022. All proceeds from this fundraiser will go towards the ministries and work of St. Andrew's.  Please contact Sandra Jackson for more information.
Click here for MacGregor Meats & Seafood Product Information
Click here for MacGregor Meats & Seafood Order Form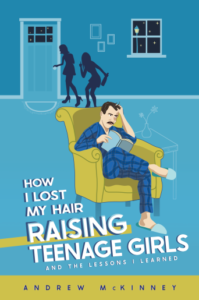 A member of our congregation, John Collins, has written a humorous memoir about life during his daughters' teenage years. He is selling it as a fundraiser, and twenty percent of all profits (not just from St. Andrew's, but from all sales) will be donated to our church. It will be launched online only at Amazon and Indigo on April 11 as a paperback and ebook (Kindle and Kobo), and he is having a number of copies printed locally to sell himself. He is hoping the congregation will support this endeavour by buying a copy ($25 paperback incl. HST), and, if you like it, posting a review online at Goodreads, Chapters or Amazon. Reviews are very important to boost a book's visibility and sales, and it just received a 5-star rating from NetGalley, the book review site! This would make a great Mother's Day, Father's Day or any day gift for someone! And there is a subtle  message of faith and the power of prayer in the stories.
Andrew McKinney is a pen name used by John to protect the innocent and the not-so-innocent.
To order a copy, contact Helen or John at 905-450-6314 or email johnco@sympatico.ca.  Pick up will be at the church with details to follow later.
Book Description:  Andrew McKinney seems to have it made: an important job, a great wife and three wonderful children. But when his two daughters become teenagers, life turns upside down. It's as if aliens have taken over the bodies of his loving daughters, leaving him confused and uncertain about what to do.
Follow Andrew's hilarious adventures as he deals with cell phones (from commando raids to decoy phones), wild parties, theft of his beer and a strange neighbour who prances around his pool naked and complains about their dog.
Family holidays provide some relief and family bonding, but comical mishaps ensue, such as racing down a mountain to reach the gate before it closes.
As they teeter on the brink of chaos, Andrew and his wife must determine what to do with their youngest and most rebellious child — send her to university or kick her out of the house? Part memoir and part self-help book, these warm-hearted stories sparkle with wit and wisdom while providing the laughs and support that a best friend would.
How I Lost My Hair Raising Teenage Girls is a parenting comedy for everyone. If you've raised teenagers or been one, then this is the book for you. If you haven't had children but wondered what it would be like, this is the book for you. And if you ever thought that pets would add to your domestic bliss, then … this … is the book for you!